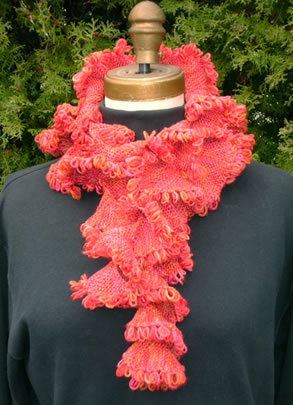 This fun and funky garter stitch scarf is knit using short rows. The fringe is worked as you knit the scarf. There is no blocking required for this boa style – when you're finished, you're finished! Scarf forms a ruffled boa shape.
Approximately 50" long x 3-1/2" wide.
Level: Intermediate.
$6.00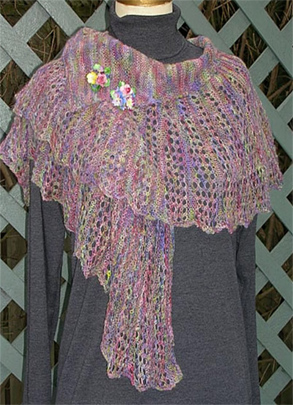 Eyelets and short rows combine in a circular shape scarf that settles round your shoulders in a lacy cloud. Shown flung over one shoulder, this whimsical scarf can be worn many ways: cascading down in natural ruffles front or back, draped in a cowl neck, as a capelet, and lots more! This scarf adds an utterly feminine and charming accent.
Finished Size: 14" wide, 39" along top edge, 96" along lower edge, after blocking
$6.00